Home
Located three blocks away from the main entrance of the Historical Colonial city of Granada, founded by Francisco Hernández de Córdoba, the oldest colonial city of the American Continent.
Hotel La Mar Dulce, an elegant building that offers all the current and modern's comforts. Designed thinking in our foreigners visitors, how beautiful is our Nicaragua, the traditional hospitality of Granadians, in a secure atmosphere, clean, peaceful and pleasant.
We guarantee you, that you would enjoy an exclusive service and would be a pleasure to assist you. We have ideally created a pleasant atmosphere and a comfortable place an exclusive personalizes attention and good services to our guests. Everything in a wide environment, breeze and enjoyable, where the visitor would discover another way how to satisfy they're vacations.
Granada has an excellent night mood with several bars and lounges. At the Hotel you could visit our Bar and enjoy a variety of internationals cocktails and diverse drinks like our national Rum Flor de Caña.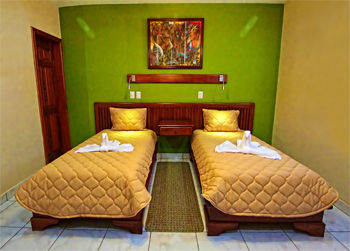 Guestrooms
Rooms with balcony
One Queen bed, two Twin beds or one Queen & one Twin bed, AC, hot water, private bathroom, LCD TV cable, safety box, hair dryer, closet, work-table, LED lighting, ceiling fan, telephone, Wi-Fi, and small balcony.
More Information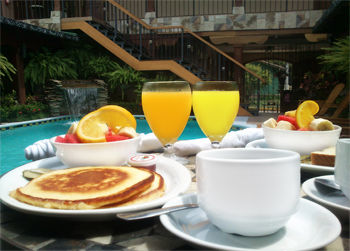 Rates
High Season (November 1st to April 30th)
Special Days (International Poetry Festival Week, Thursday and Friday Holy week, Hipica Parades, December 7th and 8th and December 24th through 31st. We offer the best rates in town!
More Information